Wednesday, May 20th, 2009
---
11:19 pm
- Conquering the bank
For anyone who hasn't seen this on another site...

I have a fear of up-banks out of water...thanks to Sprite flipping us over one during an XC schooling going on 2 years ago at this point. They still provoke a lot of anxiety and we've been working hard to overcome this.

Well, this weekend at Fair Hill, I think we made good progress...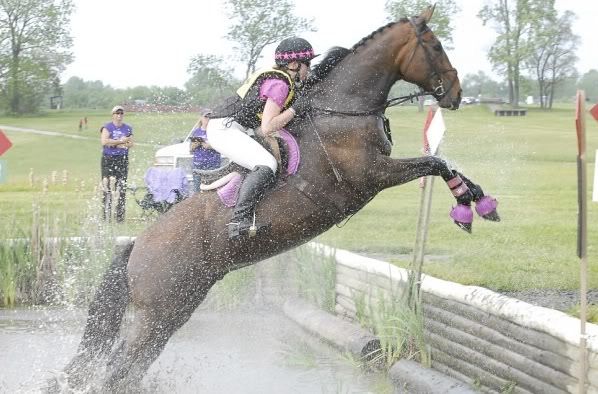 This one is getting blown up and hung on the wall.

I've updated the albums of surf and huey's exploits on my facebook...so if you want to see more, check it out over there (and I may get around to posting more photos here sooner or later...)
Friday, April 10th, 2009
---
10:41 pm
- Our House...in the middle of our street...our house
Monday, March 16th, 2009
---
12:59 am
- If anyone needs further proof that eventers are bat-sh*t crazy...


we survived the monsoon that was SPHT-1.

It may be next week before my saddle dries out...

ps - I've run 3 HTs this year - one in 20-degree weather where the water jump froze...one where it was beautiful at 60 degrees...and one where it was a monsoon.

pps - I've also attended 3 jumper shows in 2009...all of them when it was actively snowing...
Saturday, February 28th, 2009
---
1:18 am
- it's a girl!
Saturday, February 21st, 2009
---
7:03 am
- Rest Well, Sunny pony
Last night I got off work right on time, and was psyched about getting out to the barn to do both boys' trot sets...and still make it home at a decent hour. But, when I got to the barn, and saw the aisle lights on with no boarders cars around, I thought something must be up - confirmed by the fact that when I walked into the barn, there was a pile of blankets, a stack of syringes, a bottle of Banamine and 2 of dipyrone sitting in the aisle outside Sunny Delight's stall.

Sunny Delight is one of those amazing ponies who's taught a ton of folks to ride...that you take to a show and everyone knows because their kids rode him back in the dark ages. He took Julia's daughter through Training, schooling some prelim...and at under 14h, that's nothing to sneeze at. He's the pony that brought my friend's confidence back after a terrible head injury and got her comfortable riding again...to the point where she outgrew him and got a project pony of her own. Sunny was being ridden by another boarder, who's pony was laid up on stall rest with an injury. He was an amazing pony...with your typical pony paintbrush mane, and teeth that would grab you if you were too slow with the cookies. He'd come back into full work after a bad laceration last year that almost cut some tendons and required months of stall rest and rehabbing...and there were some little jumper shows on his horizon, even at the age of 22.

Last night, Sunny was down in his stall, sweating, rolling, pawing. Julia's husband had been dealing with it all day, the vet had been out, tubed him, drawn blood, and suspected a rupture and possible peritonitis. When I got to the barn, he'd taken a turn for the worse, the vet was on her way, but he just had that look in his eyes that things weren't going in the right direction. Julia has the farm trailer in Aiken, so we tried to hook up mine...but it had the wrong plug. We called the woman who used to ride Sunny and told her to come out to be with him, and hooked up her trailer, pulled out the dividers, and got it as close to the barn as we could. During all of this, we couldn't reach Julia...so we took turns walking Sunny, tearing apart the trailer, and texting/calling/emailing Julia or anyone we could think of in Aiken to go and find her. When the vet finally came, we tubed him again, and gave more drugs, and the decision was made to put him on the trailer and hightail it for New Bolton. Somehow we live in the middle of horse country...and it's a 2hr drive to anyone who does colic surgery. They left about 8pm, with my friend driving like a bat out of hell, and Julia's husband riding in the trailer with the pony...who walked right on the trailer, but didn't stay up for long. When they got to NB, they felt he was a good surgical candidate, his labs were good, and they were going to try.

This AM, I got the call that Sunny didn't make it. They got in and found lesions throughout his small intestine that would require resection of 25% of his gut. Even for a young horse the recovery would be very very difficult, and the vets felt it would not go well for Sunny, so the decision was made to euthanize him on the table.

My heart goes out to everyone at the farm...there will be a big, pony-shaped hole that will take a long time to heal, and it will be so hard to walk by the empty stall today.

Rest well, little Sunny Pony. May you run with all the great ones who've gone before you across the Rainbow Bridge.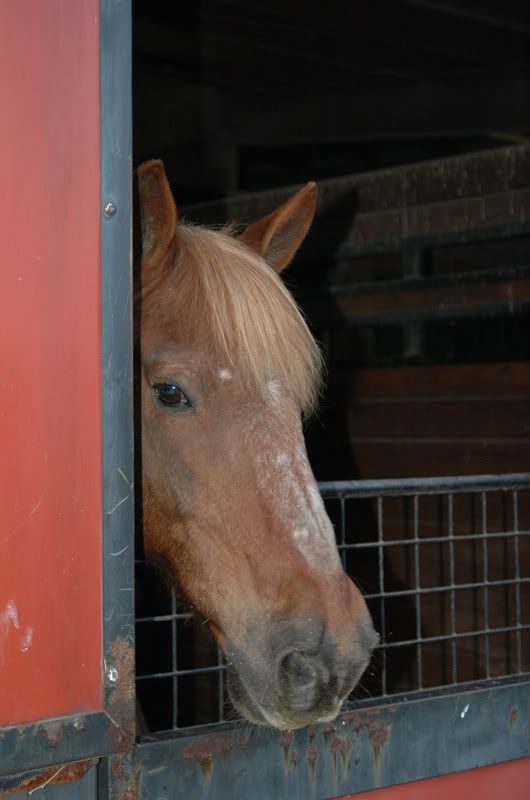 Tuesday, February 10th, 2009
---
4:21 pm
- And just so we don't leave anyone out...
Surfie, going Training at Sporting Days

http://hoofclix.smugmug.com/gallery/7299720_HNtsP#470790944_XqcVY

I'm starting to think through my spring schedule for the boys...I was going to take both to SoPines, but that's likely to change as it's a long haul for Huey and I'm not sure I want to deal with Surf's separation anxiety on my own

so, here's tentatively what I'm thinking:
February
BHPC Jumper Show - Huey

March
Yellow Rose Jumper Classic - Surf
Southern Pines I - Surf, Training
Morven Park - Huey, Novice

April
Plantation or Redland (depending on call schedule) - Surf, Training

May
MCTA @ Shawan Downs - Surf, Training and Huey, Novice

June
Rubicon - Either Surf, Training or Huey, Novice...maybe Huey Training if he's the one going to Rubicon
Seneca Valley - Whoever doesn't go to Rubicon...Surf would do training, Huey probably Novice
Monday, February 9th, 2009
---
4:54 pm
- Does anyone see an old horse here?
Wednesday, February 4th, 2009
---
10:25 pm
- Quick Aiken Update
Greetings from Aiken, where it is COLD. Today I ran xc wearing a down parka over my vest...snazzy...at least it was pink :) Ponies tails were freezing after they went through the water

The drive down was NOT awesome. Got up 3:30 am, at barn by 4:30am to wrap and drug and load ponies (side note: why can I give 3 IV shots at 4:30 AM in a barn with crappy lights but have a hard time hitting a human vein?!?!) for 6am departure. Get in truck at 6:10...at 6:12, get stuck on uphill driveway covered in ice...5 people spend 45min trying to get me out...eventually we hit the road. Hours later we get stuck on 95 after a wreck closes all lanes of 95 south. We entertain small children by letting them feed carrots to ponies in the middle of the highway. eventually I get to Aiken 12hrs after I should've left Maryland, unpack in the dark and crash hard.

Monday brought 2 xc schools - one with each of the boys - and working them on the training track. Holy crap, can the boys still run. Huey left Julia's Irish/TBx in the dust, despite being twice his age! I also learned about fancy-schmancy stuff like magnetic blankets and laser treatments. Not sure how much I buy into that, but if it makes the trainer happy, I'll make huey wear that flashing blanket and zap his hocks with lasers. He's a good sport

Tuesday was an awesome stadium/xc lesson on Surf and a long hack and dressage school with Huey. Then I spent the afternoon watching Philip Dutton teach Julia on her irish horse, and setting fences with none other than boyd martin for her lesson with her cool training horse Ottb. Philip told me that I have to teach Julia to text message...so I taught her by swapping a string of messages with him about a horse that Patricia needs to buy :) This came with the added bonus of realizing how close Julia is to the eventing "cool kids" - I mean, her address book is like a who's who of the USEA :P Finished up the day by walking my courses at Full Gallop and having dinner with Patricia/Julia/Barrett at a fabulous restaurant, where we wore real clothes.

Today was Full Gallop with Huey. They ran open divisions only, and the old man finished 7th even mixed in with the pros. Dressage was eh...but he warmed up great. Stadium was one of the best rounds I've ever ridden in competition...and xc was amazing. Huey proved that he's still a rockstar (After not running xc since fall 2007) and was so excited to get out on course that he was nickering to himself in the box and bouncing up and down. Double clear (even with losing both stirrups at the fence before the water, and making through the water without stirrups!) round, and we came off XC with Huey not even breathing hard and not breaking a sweat. I was so happy coming off xc that I thought I was going to cry...and Julia was by the time I found her. The Old Man is back yet again.

Tomorrow, schooling Full Gallop with Surfie and Hacking Huey. Friday we go to Kim Severson's for dressage lessons. Saturday is Sporting Days with Surfie :)

current mood:
ecstatic
Saturday, January 24th, 2009
---
9:47 am
- The Boys are Famous :)
Julia's book came out this week - and I just finished it this morning. It was fabulous...and I'm not just saying that since a good chunk of it is about Surfie and Huey. Seriously...everyone should go out and buy a copy of Finding My Distance (by Julia Wendell) for some good winter horsey reading. Here's the website about the book (where you can also read the first chapter):

www.galileobooks.net

As a bonus, all the proceeds are going to help Kim Meier, the upper-level eventer who was injured in a riding accident a few years back and is now paralyzed below the shoulders. On the Galileo Books site, you should read Kim's story (written by Julia's husband)...it's beautifully written.

It's funny though, at some shows this winter, we'd run into folks who'd gotten advance copies of the book, or read the stuff on the website...and come up to us and say thing like "Is this THE Surf Guitar? The one from the book?" - very weird. I can only think we'll be getting more of that down south.

We leave for Aiken a week from tomorrow...entries are in, housing and stalls reserved, vet scheduled for health certs and oiling, placing a feed order on monday, and cleaning out the trailer this weekend to pack everything I own (it's amazing what it's going to require to take 2 horses 10hrs away for 8 days). It's funny to think that one of the things Julia's book builds up to is Huey's retirement and Surf's possible retirement...but the old man is getting on the trailer with everyone else next week...

and surfie doesn't look retired, does he?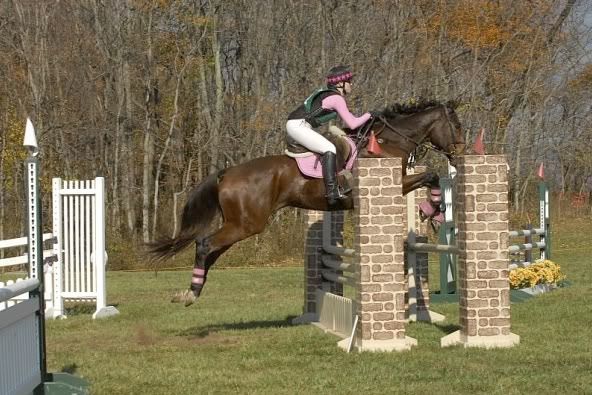 current mood:
excited
Monday, November 24th, 2008
---
10:39 pm
- Old Man, your vacation is over
Huey had his first off-the-farm field trip in almost 9 months yesterday. Just a little dressage show, but still...it felt awesome to be back on the old man! He marched right on the trailer...and when we got to the show he was completely laid back, hanging out tied to the trailer. He was a bit of a spaz waiting to go in the ring...bouncing up and down getting all bug-eyed at having to go in the scary indoor. The steward asked how old he was...I asked why...and he said he looked a little old to be silly about going in the ring. When I asked how old he thought the horse was...he said 7 or 8 :) Old Man still looks pretty darn snappy for his age...5.5 weeks away from 21yo!

Tomorrow is the real test for the old man...a full-on jumping lesson with Julia :) Fingers crossed he comes through with flying colors.

Provided all goes well, we proceed with the ambitious task of planning a show season for two ponies...my Winter/Spring omnibus is already annotated with pink hilighter and notes about scheduling :) Anyone want to help me juggle two ponies if all goes as planned and we're showing in NC this winter?

Surf is great too...getting a little break from showing after a long season. Had a good last outing at Rubicon...planning to do some jumper stuff this winter...schooled 3'9"/4ft in lesson this week to prove to myself that big jumps will not attack me...
Wednesday, October 22nd, 2008
---
7:45 am
- quick update
Sprite has a new job! He'll be going to VA over the weekend to become a western trail horse/pasture buddy for a retired TWH and a mini donkey. I'm sad about letting him go, but it's time...and he's to come back to me if his new buddies can't keep him :) Sprite in a GIANT western saddle walking around with his nose on the ground is hilarious :)

Huey is coming along well...doing a little jumping, but hacking and doing conditioning work like crazy. We're planning to do some dressage shows in Nov -- somehow I've lost my mind and will be doing 1st level Test 1 with him. yeah. crazy

In other craziness, Surf and I ended up in the wrong group for our lesson with Jimmy W. yesterday -- and ended up schooling all the prelim fences at the farm (except the prelim corner which is under repair). He was marvelous...and our only bobble was at a novice fence at the water we've jumped a dozen times. I need to go back and take a picture of the water jump -- downhill approach (like at the small water at CHP) with a drop on the downhill, 2 strides to a rolltop sitting on the edge of the drop into water :)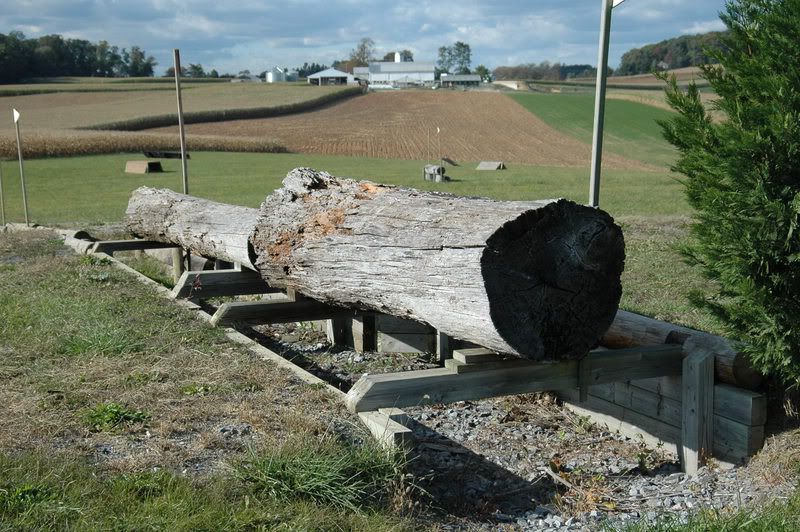 My goal since moving to the farm was to jump the P trakhaner...and Surf did it without batting an eye yesterday :)
Wednesday, September 3rd, 2008
---
9:05 pm
- 3 years on the Dark Side
3 years ago last weekend, I went to my very first horse trial.

It was chaos. What I knew about eventing, I'd learned on the internet...and I'd had Quincey for 4 days. I got eliminated on the first fence on XC.

4 horses, 5 very different yet complementary instructors and mentors, numerous falls, and a lot of blood, sweat, time and tears later, I wouldn't go back from the Dark Side for anything :) I'm happy with my horses, happy with my instructors, happy with my goals, and enjoying bouncing back and forth between N & T :)

This labor day weekend, I went to a horse trial with the very same people I went to my first HT with. This time? We finished on our dressage score and came home with a primary colored ribbon (4th after dressage, moved into 3rd).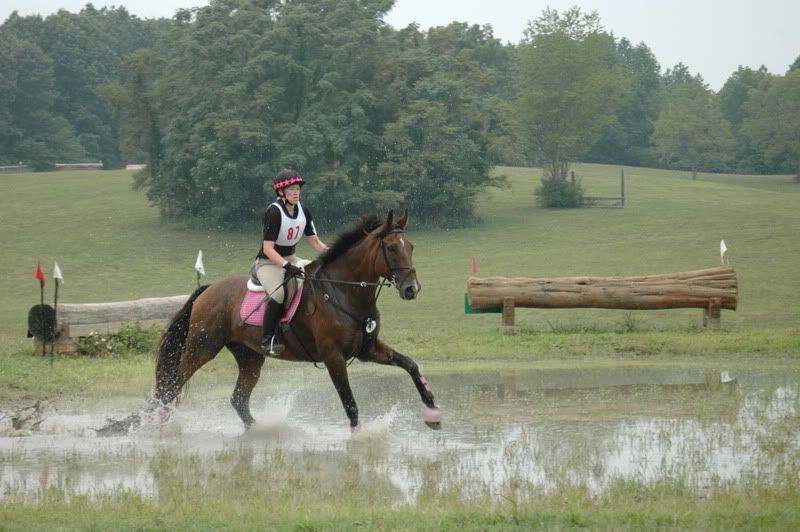 I owe a lot of people...and horses...thanks. Too many to list here, but here's a few important ones:

Thank you to:

~ Patricia, for taking me under her wing, teaching me much of what I know about the logistics of eventing from the rider, horsewoman, and event organizer points of view. For teaching me to drive a trailer. For taking me to many many events and schoolings, for taking care of my horses when I couldn't be there, and for being a great friend...and for keeping me from killing myself with stupidity along the way.

~ Betsy, first and foremost, for not running screaming in the opposite direction when presented with an ex-hunter re-rider and a GIANT draft horse. For pushing me out of my comfort zone, being quick to yell at me when I needed it, and quick to praise when we deserved it. And for telling great stories of riding at the upper levels with some of the Greats...

~ Julia, for taking things to the next level. For sharing your best friends with me by giving me the privlege of riding 2 fabulous schoolmasters, and showing me how best to learn what they have to teach. For opening the door to riding with some of the best of the best. For being honest with me when I need it, being supportive when I need that too, and for sharing my excitement when your boys help me to succeed.

~ Quincey, for being a terrible event horse...but for being an event horse at all. For being tough and making me be tougher, for compromising in the end and having some good goes around xc. For teaching me to set small goals and see the success in acheiving them. For being the original GIANT HORSE...you will not be forgotten!

~ Sprite, for being MY event horse. For teaching me that going fast is ok, for showing me the value of the half-halt, for opening my mind to a new breed, and perhaps most of all, for showing me how a horse can break your heart and teaching me the depth of committment horses take from you.

~ Surf, for stepping in to fill a void, and for teaching me to be subtle but demanding...of both my horse and myself. For showing me the anguish and frustration of a difficult horse, and the reward that comes with every small acheivment. For being a schoolmaster in the truest sense of the word...demanding of perfection, but rewarding with results. For taking me around my first Training level HT...a goal that seemed unthinkable 3 years ago.

And...perhaps most of all...

~ Huey, for stepping in to fill the emptiness of losing MY event horse to injury/illness, for rebuilding my confidence over fences, for showing me that riding an upper-level horse is like driving a sports car, for finally letting me catch you in the pasture, for teaching me the value of teaching horses to think for themselves. Thanks Huey, for your willingness to be my partner, to share your knowledge with me in exchange for Twizzlers. In short, Huey, thanks for everything...

current mood:
contemplative
Wednesday, July 23rd, 2008
---
8:39 pm
- Exciting Pony News!
The venerable old man passed his ultrasound Monday with flying colors -- so much so that we've been cleared to start walking under tack a month early!

Huey got shoes today...so he will commence rehabbing under saddle tomorrow with 10min of walking on hills :) Per the vet (and Huey-horse's entourage of caregivers/owners/admirers...) the goal is for him to see his first x-rail in September!

So excited!!!!!!

current mood:
jubilant
Saturday, July 5th, 2008
---
6:30 pm
- Surf Guitar Update
It's been a while, so I thought I'd post some new photos of Surf Guitar -- 14yo OTTB...who's bigger than I thought! We pulled out an offical stick, and he's definitely 18hh! Most of these are from our last 2 novice HTs...since these were taken, we've successfully moved up to Training!

Here's a sneak preview: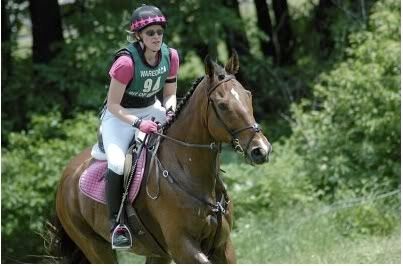 (

Click here for more Surf Guitar photos!Collapse

)



We did our first Training a week ago at Surfire...next up, MDHT I and II at Loch Moy!
Sunday, June 8th, 2008
---
9:23 pm
- Great big horse, teeny tiny fences
Tuesday, May 20th, 2008
---
3:35 pm
- For the other Hannah....another east-coast job :)
Tuesday, May 6th, 2008
---
12:37 am
- Surf Guitar update -- and good Huey news!
Wednesday, March 26th, 2008
---
8:11 am
- Giant Horse v 2.0 -- this one comes with a theme song...
Saturday, March 8th, 2008
---
6:20 pm
- Keep your fingers crossed...
Waiting on an email back that this is about to be mine :)
http://southjersey.craigslist.org/grd/570249886.html

Now to go to work (7p-7a...boo), go to a jumper show (yay! If I get brave, we're going to do the 3'6" classes...), sleep, go to work again (7p-7a...boo), and buy myself a beat up old truck.

Oh...and we sent in our first entry for Training...Flora Lea, here we come
(and we didn't get in to SoPines I...boo...)
Wednesday, February 20th, 2008
---
10:50 pm
- she made it to the east coast :)
Update on the other Hannah's trip east --

I picked her up at the airport (after getting stuck in traffic thanks to the snow), and we proceeded to sit in traffic, almost run out of gas, get lost in middle-of-nowhere VA in the dark, almost take a ferry across an unknown river to an unknown destination, see the very cute town of Leesburg, and finally get her delivered to Windchase farm :)
---